"Agencies are dead", a phrase bantered around our industry a lot. I don't think they are dead but definitely redefined, as brands migrate to an "in-house" model. Disney's Yellow Shoes is a great example. Additionally, "in-house" doesn't necessarily mean doing everything yourself. What this means is to bring the creatives to you. The freelance hiring pool is deep and the talent is phenomenal. All commercial and theatrical productions are made using freelancers and the work they produce is the content we consume daily. Now, to utilize an in-house model to the best effect, you need to hire talented internal video producers as well as have a solid marketing/strategy team. Without these two elements, the in-house model will not work and you are better off hiring an agency.
Just to clarify, "in-house" does not mean all content will be created in-house. Your large evergreen campaigns and product launches will be outsourced to a production company as there is too much legal risk. If someone is injured on set you do not want your company to be liable, that needs to fall on the production company and not your brand. "Wait, I thought you said "in-house" so why are you telling me to hire another company?" This is a valid point, however, you are now directly hiring a production company as opposed to your agency hiring a production company. This saves you money as there will be no "middleman fee" as I like to call it.
Before I dive into what exactly your in-house team will primarily be doing (micro/social content). We need to talk about your evergreen campaigns and product launches. The stuff in which you will need to hire an external team.
You might be asking: "How do you come up with the creative?" "How do you write the spot?" "Don't I need an agency to do this?" No. You don't. This is where your in-house producer and your marketing team come into play. Your producer will hire a freelance art director and a copywriter and work with them to develop the creative based on your current marketing strategy. Those three individuals are your "agency". Once an idea is finalized, they will reach out to a production company and they will find the best director to fit your brand. Once the director is involved, the creative will be refined until it is in a place where everyone is happy. Gone are the days of having an agency make all the creative choices while you sit in the back seat. You are involved throughout the entire creative process.
Your production company is aware that you are an in-house team and will offer solutions and plans to maximize the content that comes out of your days on set. While the video team is filming in the front, the photo team might be taking product photos in the back. Additionally, the production company will plan the shoot to allow for high-quality product "b-roll" for your producer to make micro-content within your in-house studio. In-house isn't as nearly as hard as it sounds!
Okay, but what is this micro/social content I've been mentioning? Where does that come into play? As we both know, having a social presence isn't an option. It is a necessity. Brands need to crank out content to keep customers engaged and remind them to buy your product. Previously, agencies would create all the micro/social content for you but as we both know, the overhead cost for an agency is just too damn high. Now it is time to be resourceful and put your in-house team to work. You already have a great finished ad from your production company, all the RAW footage, that spicy b-roll, and some crispy photography…. but you don't have any tools to create anything and I guarantee you that your IBM think-pad will not cut it (literally). Additionally, what if you want to shoot some customer testimonials, make a quick video, or film some little bits of content? This is the part where we build your in-house studio.
---
This is how you start
The whole point of creating an in-house studio/agency is to save money. Sure, if your CFO says you can buy a $40,000 RED camera then go ahead. But, I believe most companies are trying to save the most amount of money possible, especially in today's turbulent climate. I am going to spec out what will get you the highest quality looking videos for the lowest cost. This is not an easy thing to do by just reading amazon reviews alone. You need to consult the professionals and the people who use these tools to make a living… like me! Anyway, let's get into it.
---
Post-Production
Due to the sheer length and amount of products you need, I will be splitting this article into 2 parts. In part 1, we will be discussing post-production. Why start with post? In most cases, brands won't need production equipment as they can afford a production company to take care of that (though sometimes this is not the case which is what we'll discuss in part 2). However, all in-house teams need to have the equipment to create simple videos, short motion graphics, and the ability to securely store your brand's media assets.
---
The Edit Station: Apple Mac Studio M1 Ultra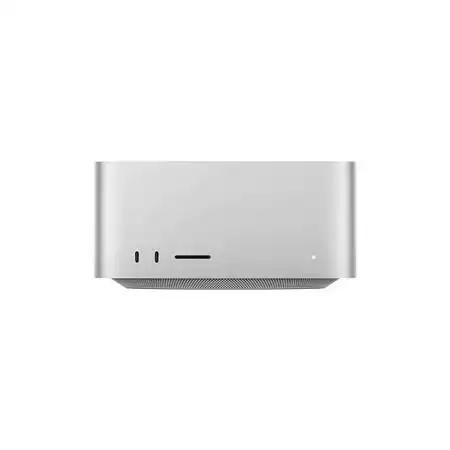 We earn a commission if you make a purchase, at no additional cost to you.
I edit on a custom-built Windows PC and I used to say it destroys a Mac… until the M1 chips came around.
I have an M1 Max MacBook Pro and it is around 3x as fast as my $4000 custom-built Windows PC… this Mac Studio is more than 2x as fast as my current MacBook… need I say more, this computer is absolutely insane and nothing is as fast as this rig when it comes to video editing.
---
The Peripherals: Logitech MX Master and Wacom
For the love of God do not force someone to use the Apple Magic Mouse. I hate it, editors hate it, everyone hates it. Buy the Logitech MX Master 3S. Lots of editors use it and it won't give you carpal tunnel like the aforementioned Magic Mouse. Make sure to buy a mouse pad too. It increases pointer precision and provides a soft surface for your palm to rest. I recommend this mouse pad by SteelSeries. I use it every day and love it.
If you require graphics creation, I recommend investing in a Wacom Intuos Pro tablet. They greatly improve efficiency, speed, and design for creating graphics and motion graphics. Your motion graphics and design people will love you for it. If you want extra brownie points, get a Cintiq Pro. Though expensive, this is the industry-standard tool for the design and motion graphics world.
I would not invest in an additional keyboard. The Apple Magic Keyboard is perfectly adequate.
Buy Now

We earn a commission if you make a purchase, at no additional cost to you.

12/04/2023 03:11 pm GMT

Buy Now

We earn a commission if you make a purchase, at no additional cost to you.

12/04/2023 03:33 pm GMT

Buy Now

We earn a commission if you make a purchase, at no additional cost to you.

12/04/2023 12:21 pm GMT
---
The Monitor: Apple Studio Display 27″ 5K Retina Monitor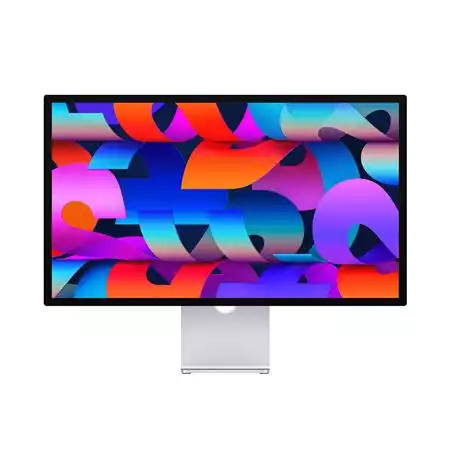 We earn a commission if you make a purchase, at no additional cost to you.
Though you can edit on only one screen. Almost all editors edit on a minimum of 2 screens. It greatly improves efficiency and editor comfort. Remember, editing is a creative process and as such, it is hard to create when you are uncomfortable in your surroundings. Your editors will thank you and will without a doubt be happier, faster, and more creative.
I talked about great monitor alternatives in this post and they are my personal go-to when people ask me what monitor they should buy. However, since you got the new Mac Studio… you might as well get the matching screen.
Again, you don't have to buy a 2nd monitor but I do recommend it.
---
The Server: QNAP TVS-872XT
I love this server. I have the 4-bay version and it has served me well over the years (no pun intended). I have a full guide on all the components the server needs here in this post. Since you have an iMac, this server will connect directly using ThunderBolt 3 and will be lightning fast. This will easily be able to store all of your projects and will continuously backup to a cloud service of your choice without you having to do a thing.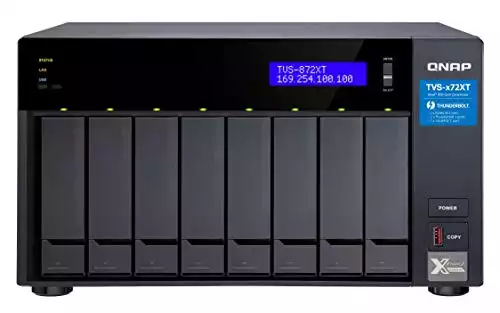 We earn a commission if you make a purchase, at no additional cost to you.
---
The Software: Adobe Creative Cloud
This is the standard for video editing… and any creative field. Any editor, designer, producer, or motion graphics artist you encounter will require Adobe Creative Cloud to be installed. Yes, there might be alternatives like FCPX or DaVinci Resolve but the pros use Adobe and so should you.
---
The Chair: Herman Miller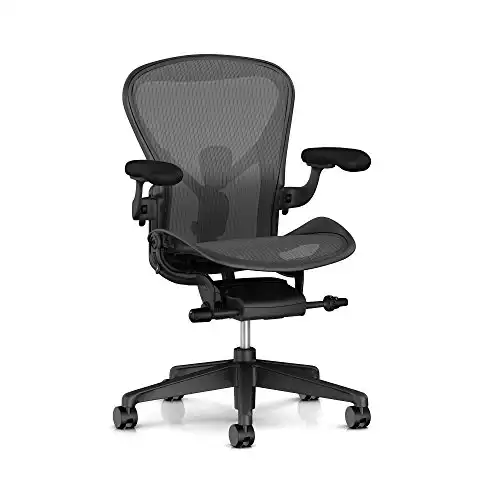 We earn a commission if you make a purchase, at no additional cost to you.
To be completely honest, you might already have these in your office. I have never been to a client who didn't have a Herman Miller Aeron chair. As someone who sat in one for almost over a year, I can confirm they live up to the hype and price. There is nothing worse than editing in an uncomfortable chair. If this is above your price range, the second-best option would be a "gaming chair." I have had a Clutch Chair for over 4 years and it's still holding strong with no noticeable signs of wear and tear and the seat cushion still feels brand new to this day. 11/10 would recommend it.
---
In Conclusion
We made it! Part 1 is done. You now have everything you need for your post-production studio. This was the easy part, however. In Part 2 we will go over everything you need for your in-house production studio. We will cover what camera, lens, audio equipment, and all the miscellaneous items you must have for the perfect video studio. And, as budget is a concern, we will build it all for under $12,000 without sacrificing any quality. Additionally, I am going to go over why you should consider an agency and how that might be better for your brand. Again, an "in-house" solution might not be for every brand and you need to consider some potential downfalls of not having an agency and not just go "in-house" because everyone else is doing it.