Updated: 10/31/2023
Digital Imaging Technician or "DIT" for short is an essential part of any film crew. From offloading files, creating backups, generating LUTs, and handling the footage from the shoot. It is imperative that you have a reliable, powerful, and most importantly, portable system. From my days of DITing, I have had to be cramped in a corner, outside on a table, huddled in a bathroom, and forced to move whenever the shot changes. You need to be ready for whatever production throws your way and have a system that will handle anything with ease.
---
The Best DIT rig for small, indie, or commercial productions.
If you searched for "how to build a DIT kit" you won't find very many results and the results you do find are WAY over your price range. Not to mention, there isn't a standard set of gear a DIT has. Every DIT I have met has their specialized kit and has special monitors and control wheels for on-set color grading. Since we are trying to stay under the $6,000 mark, our kit will be made for all types of data wrangling with the ability to color grade if you need to. Additionally, our DIT kit needs to be powerful enough to quickly render proxies for our editors and cannot slow down production. Let's get started.
---
Item 1: SKB Injection Molded 4U Studio Flyer
This is the most important part of your kit. It needs to be portable, easy to transport, have space for multiple rack-mounted items, have a place to mount your laptop, and most importantly, have a carpeted platform so your media cards don't slide off. This case by SKB is the best. Honestly, it meets and exceeds every single item we are looking for when building a DIT case.
The best part of this case is that the construction is completely waterproof when sealed. This will give you much more protection than a simple trash bag whenever an unexpected thunderstorm appears. You have to remember, YOU ARE THE SOLE OWNER OF THE FOOTAGE. If something happens to your kit or the data you have while on set, you could ruin the entire production. I trust SKB cases and can say that they are the best in the industry and will not fail or break.
Another great benefit is that it has wheels and can be rolled around instead of carried. 11/10 would recommend this case.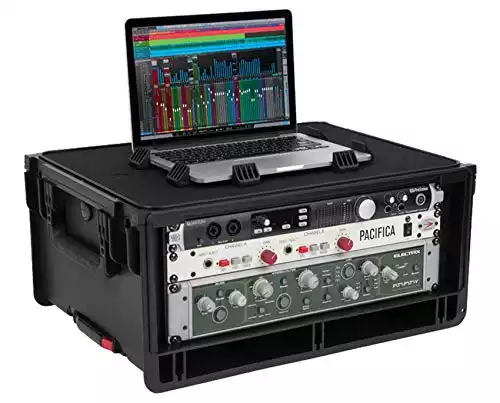 We earn a commission if you make a purchase, at no additional cost to you.
---
Item 2: APC Smart-UPS 500VA
As I mentioned earlier, you need to be ready to move when production tells you to move. This happens all the time so you need to have backup power that can power your drives for a little bit until you can be connected back to shore power. If you have read some of my other posts, I am a strong believer in APC. The cheaper brands are unreliable, will break, and therefore cause a loss of data. Productions are tough on equipment so you need to have a power supply that can take the abuse.
This rack-mounted UPS has 500VA of backup power, and 4 outlets, and can power your devices until you can plug back into shore. And because it is lithium, it is significantly lighter than many alternatives.
We earn a commission if you make a purchase, at no additional cost to you.
---
Item 3: BlackJet RMT-1U
Rack-mounted card readers are the absolute best and are worth the premium over the portable ones. The last thing you want is a bunch of card readers sloshing around in your case while you are on the move. With the new RMT-1U however, the rack mount is separate from the card readers; this allows for ease of upgrades in the future. It truly is the best option for a fully modular DIT kit.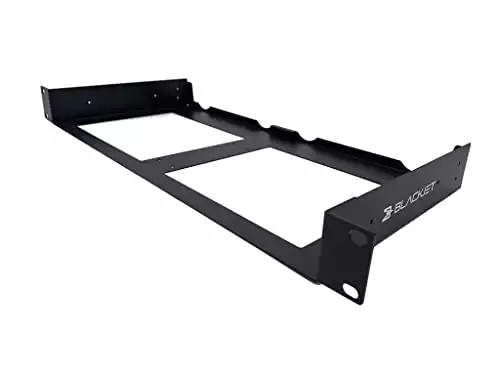 We earn a commission if you make a purchase, at no additional cost to you.
---
Item 4: BlackJet TX-2DS Thunderbolt 3 Dock
This is a fully modular unit that can easily hot-swap Blackjet's various media readers. For a fully stacked DIT kit, I recommend getting 4 of these and two of the aforementioned rack mount trays above. The best part, each of these devices can be daisy-chained together and run via a single Thunderbolt 3 cable.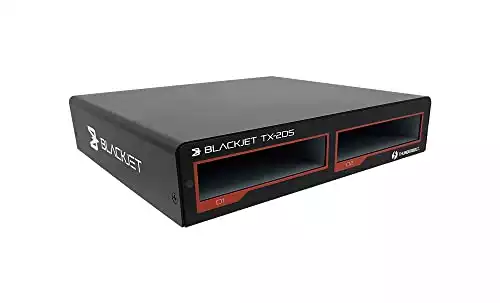 We earn a commission if you make a purchase, at no additional cost to you.
---
Item 5: BlackJet Media Readers
Every media adapter under the sun is available for the TX-2DS. SATA and M.2 SSD's for cache, SDXC for DSLRs, the CFast 2.0, CFExpress-B/XQD, and CFExpress A for profesional cameras. And then, of course, a RED Mini-MAG reader. For a fully decked-out kit, choose 8 and you will be more than set for set.
---
Item 6: The MacBook Pro
"Oh but Windows are more cost-efficient and faster?" Not anymore, though still pricey, the performance of an M3 MacBook Pro is insane. I have personally rendered an entire day's proxies from an Arri Alexa shooting in UHD in 30 minutes… it is mindblowing. Your drives are formatted to APFS, you require Thunderbolt 3 (support just isn't there on Windows), and the ability to color-code folders in Finder makes owning a Mac an absolute necessity for DITing. Additionally, there is a lot of film production software that you need that only runs on Mac. Lastly, your clients expect you to use Macs because they don't know any better. If they see a Windows machine they will probably question hiring you. Just kidding about that last part… but it does hold some truth. 
This thing is powerful. With 48GB of RAM, a 1TB SSD, and an M3 Max chip; your proxy renders will fly. This machine will also be plenty powerful for playing back 8K RAW footage and creating/generating LUTs. The MacBook Pro display is also the best in the industry as far as laptops go. It calibrates wonderfully and will give you an accurate representation of what the image will look like in the edit bay.
For this particular DIT kit, there are not any other good options than this machine. Yes, it is expensive but will last you for a good amount of years to come. If this model is above your price range, just get the base model. It is still plenty powerful.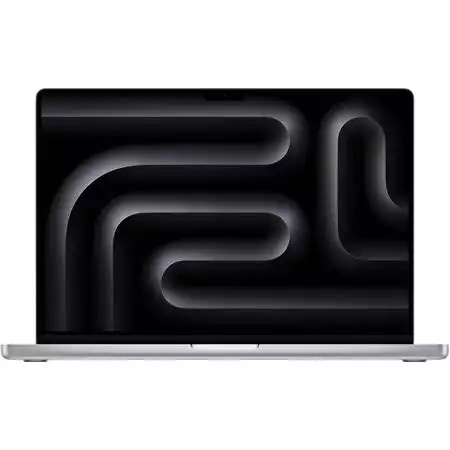 We earn a commission if you make a purchase, at no additional cost to you.
---
Item 7: The SSDs
Buy two 4 TB NVMe SSDs for the Blackjet DX-1M. Transferring to an orange Lacie drive is just too slow. Your camera media has a read speed of around 500 MB/s (at least). That Lacie drive has a write speed of 130 MB/s. Your transfers can be 5 times as fast using SSD media.
Now, you don't want to only transfer shoot data to the SSDs. These SSDs are for cases where you need speedy offloads or need to generate proxies. Additionally, in the world of DITing, you never want to transfer footage to a single drive. You must transfer to 2 un-raided separate drives. Even though you bought 4 SSD you only have 2 because every drive needs to have a backup to be used. Sure it may be inconvenient and expensive but what's even more expensive is having to re-shoot a $100,000 day because the single drive you transferred to crashed. Speaking of transferring and backups… let's look at the software you need.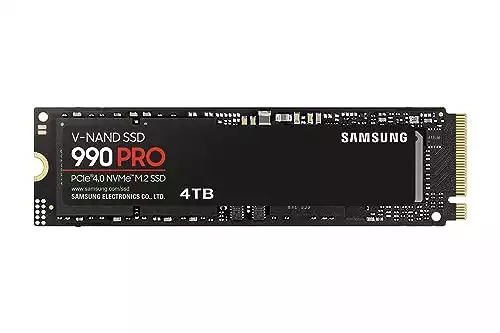 We earn a commission if you make a purchase, at no additional cost to you.
---
Item 8: Essential Software
Your software is part of your toolbox and you need to have the right tools to do the job. Here is my list:
---
In Conclusion
And that's it! This is all you need to get started as a DIT. Thanks to high rates and kit fees, you will make back your investment in no time… though I'm sure you will start building a "big-boy" kit equipped with a MacPro, a NAS, and $20,000 worth of monitors, and… yeah. Being a DIT can get expensive fast. Stay tuned for a future blog where I explain the best practices you need to follow to make sure your data is organized, safe, and secure.
To keep your data organized, check out The Post Flow folder structure for your drivers, servers, and everything in between.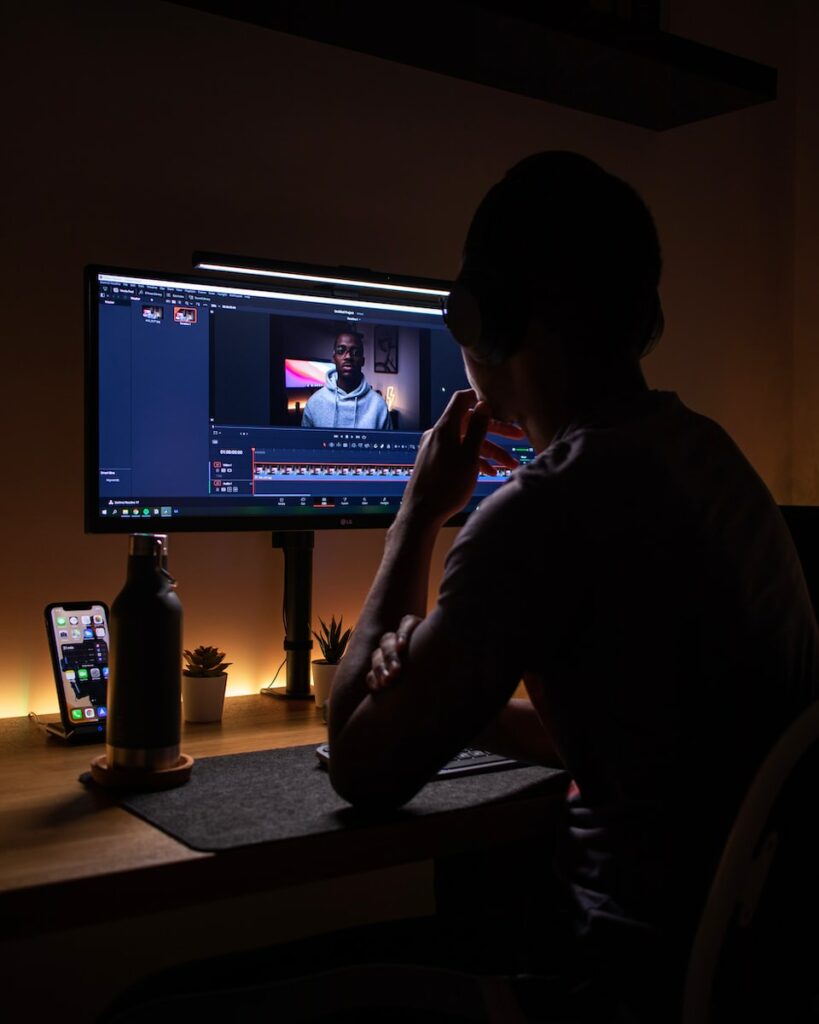 Professional Folder Structure for Premiere Pro and DaVinci Resolve Bundle
A professional post-production folder structure perfect for editing projects large and small. Designed for Premiere Pro and DaVinci Resolve workflows.