---
The issue with laptops
Thermals. You can cram the most powerful graphics card and a next-generation CPU into any chassis but with that power comes heat… and a lot of it. What happens when things start to heat up? They slow down. This is due to a hardware fail-safe called "throttling." Throttling slows down the CPU and/or GPU to prevent circuits from bursting into flames. When Apple first released the MacBook we know today, the top-specked model had severe thermal throttling issues. Even under small loads, the CPU would underclock itself to excruciatingly low speeds. This resulted in system instability and terribly slow renders. Luckily with the new 16-inch MacBook Pros, they no longer have this issue so long as the surface the laptop is on doesn't block the air vents on the underside (so… definitely not a pillow or lap). Apple accomplished this by slightly redesigning the heat pipes in the laptop but by also using the newer CPUs by Intel that have been redesigned to improve thermal efficiency.
With the advancements in mobile technology, we are now able to cram processing power we could only dream about a couple of years ago into a computer that fits in your backpack. However, as much as I love my MacBook… PC laptops are the king for mobile VFX.
---
PC vs MAC
One word, "CUDA." CUDA is the framework that almost all VFX programs are built on and is Nvidia exclusive. The executives at Apple have had a personal beef with the executives at Nvidia since Steve Jobs left Apple a decade ago. Even though Nvidia makes far superior cards than AMD; and ignoring the fact that almost all VFX programs require Nvidia cards for their software to work… Apple still won't budge and put what professionals want in their machines. So if you are wanting to use the immensely popular V-Ray renderer, or use Maya's built-in Arnold renderer with a Mac… you are straight out of luck. And with the complexity of today's VFX compositions, rendering using software/CPU only would turn your render from 24hrs to weeks. And in the case of Maya, the software won't even let you use the latest version of Arnold, you have to default to the legacy renderer. What about Octane? Same issue. In fact, with the latest version of Octane, you can get an almost 5X speed improvement using Nvidia's latest RTX cards vs Nvidia's older GTX cards. AMD cards are not supported.
Oh but what about Cinema 4D's renderer, Redshift? Nope. Redshift requires an Nvidia GPU. AMD is not allowed. So yeah… unless you are doing basic motion graphics in Adobe After Effects there is no other option than to buy a PC with an Nvidia card… and preferably an RTX card.
---
Why you would want a MacBook
Yes, I did just finish ranting about why you can't do VFX on a mac but… there are reasons you still might want one.
First, MacBooks have Apple Motion so if you are an Apple Motion artist then a MacBook is your only choice. MacBooks also have a nice touchpad (which I LOVE), an excellent display, and are ascetically pleasing. There are other reasons you might want a MacBook but since this is an article about VFX, I am going to save that for another day as there are literally zero reasons to even consider a Mac for VFX work (unless of course, you are a rare Apple Motion artist).
Okay moving on, let's find a Windows laptop.
---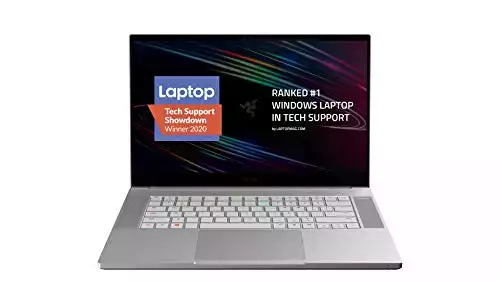 We earn a commission if you make a purchase, at no additional cost to you.
Since we were talking about MacBooks, I feel it is best to start with the MacBook of PC laptops, the Razer Blade 15 Studio Edition. You might have heard or seen Razer in the gaming space where they are quite popular, but with the ever-increasing demand of powerful mobile workstations, Razer has made a laptop specifically for content creation that directly competes with the aesthetics of a MacBook Pro while delivering the ridiculous power of the Quadro RTX 5000. That Quadro card contains a staggering amount of 16GB of VRAM (the most I've ever seen in a laptop), over 3000 CUDA cores (unheard of in a laptop), and plenty of Ray Tracing cores to handle anything RedShift might throw your way.
The 8-core i7-10875H might not be as fast as the MacBook Pro's i9 but it is still plenty fast, but we are using this for VFX… Graphics cards are much more important and this Quadro RTX 5000 is so much faster than the MacBook's AMD 5500M that it's laughable.
Additionally, viewing 3D renders on a bad screen is unacceptable, that's why this laptop contains a 4K OLED 100% P3 display to ensure that your image is viewed in the best way possible. Oh, and it is a touch screen too which is a fun bonus.
The only thing I wish this laptop had is 64GB of ram. Luckily, this can be upgraded in the future. However, 32GB is still plenty for all but the most intensive compositions.
Overall, if you want the aesthetics of a Mac but the power of a PC, The Razer Blade 15 Studio Edition takes the cake.
---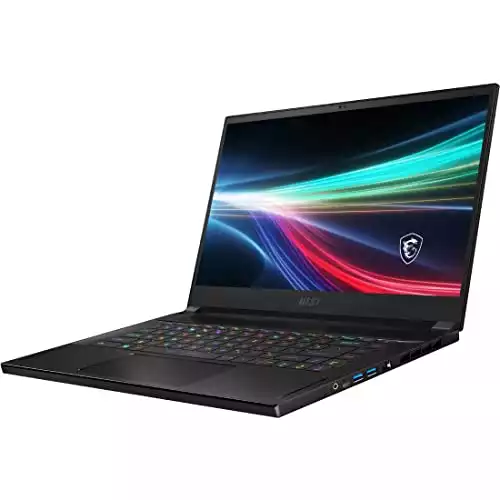 We earn a commission if you make a purchase, at no additional cost to you.
A stalwart PC component and systems manufacturer since before I can remember, MSI is a brand I have trusted and recommended to my industry colleagues for ages. At a low price of $1,849, this MSI Creator 15 is still a powerful machine. In fact, it shares almost all of the same specs as our Razer Blade 15 Studio Edition except for a few key differences. First, instead of the RTX 5000, we have an RTX 3060. Still an excellent card but it is 60% slower than the Razer's RTX 5000, contains half the VRAM, and has around 1000 fewer CUDA cores (the part that is responsible for rendering). However, if you don't plan to heavily rely on the aforementioned GPU engines (Redshift, Vray-RT, Octane) this less powerful card will be totally fine for your workflow.
---
Under $2000? You got it. Just like MSI, Gigabyte has been a leader in the PC components world for decades. At $1,559, the Gigabyte AERO 15X contains the bare minimum you need to get your feet wet in the world of VFX. As this is thousands less than our other two candidates, there are some compromises to be had.
First, our screen is only 1080p. However, it makes up for this lack of 4K with an extremely color-accurate sRGB panel (Pantone/X-Rite factory calibrated & certified) as well as a refresh rate of 144hz which makes for a wonderful user experience due to the almost zero motion blur when objects move across the screen.
Second, we have the most basic of GTX graphic cards, the GTX 1070. This card contains 8GB of VRAM and around 1920 CUDA cores which is slightly lower than our other 2 laptops but is still a fine spec. Nothing crippling and still faster than a MacBook Pro.
Third, we now only have 16GB of RAM which is unfortunate however it still should be fine for most VFX scenes. If in case you need more RAM, good news! The RAM is user-upgradeable to 64GB.
Lastly, we do lose 2 CPU cores for a total of 6 cores. While this isn't a massive power loss, those extra 2 cores would help your rendering speed by approximately 15% compared to our MSI and Razer laptops.
Overall though, for $1,559 this laptop is an absolute steal, and would 100% recommend it to anyone with a small budget looking to get started in the world of VFX.
---
In Conclusion
Finding a mobile workstation for VFX is no easy task. Thankfully, PC manufacturers have expanded their product lines to cater directly to creative pros just like Apple did with the MacBook Pro. Finally, PC users can buy an aesthetically nice, high-performance PC with content creation-specific features without having to succumb to an ugly/bulky/alien-mothership looking gamer laptop that weighs 15lbs and has the battery life of Juul. Whatever your budget, I am confident that one of these laptops will fit your needs. If you have any questions, feel free to leave a comment!