In Part 1, we discussed the shift from agency to in-house video production, the considerations that need to be made, and what equipment is necessary for post-production. In part 2, we will cover all the equipment needed to build your production studio.
It is not as simple as buying a camera, lights, and some audio equipment anymore. As technology has gotten cheaper to make, there is an overwhelming combination of production equipment that you could buy. I'm sure you have done the whole "Sony vs Canon" exploration as well as watched a plethora of lens comparison videos. As great as watching reviews are, nothing comes close to real-world tests. Based on my experiences, the following equipment recommendations are what I know will get you the best picture quality at the best price.
As there are many items to buy, I have created a handy spreadsheet that summarizes everything along with purchase links: In-House Studio Purchase List
---
The Video Gear
There are way too many cameras to choose from. From Canon to Sony to Panasonic and Blackmagic. Choosing the right camera for your studio is no easy task. And with thousands of reviews and conflicting comparisons… it's information overload. Having used almost every pro-consumer and professional camera under the sun, my aim is to clear out some of the clutter and help you make the best purchase decision for your brand.
Do remember, that the picture quality is not solely dependent on the camera. Often people overlook the importance of a good lens, high-quality lighting, and proper post-production techniques (like color grading). With that being said, it still is important to invest in high-quality gear… but don't start thinking that since you bought a nice camera your footage will look like a Scorsese epic. You must invest time in studying the art of filming and the various techniques to make your footage look great.
---
The Camera: Blackmagic Design Pocket Cinema Camera 6K Pro
Blackmagic Design Pocket Cinema Camera 6K Pro
Blackmagic Design elevates the bar with their Pocket Cinema Camera 6K Pro, building upon the legacy of their esteemed 6K model. While inheriting core features from its precursor - from recording capabilities and sensor to dynamic range and connectivity options - the 6K Pro brings fresh, sought-after upgrades to the table. These include a 5" tilting HDR touchscreen LCD boasting a luminous 1500 cd/m² brightness, an optional Pro EVF, integrated ND filters with clear/2/4/6-stop options, enhanced audio input with dual mini-XLRs, an impeccable timecode clock, and the convenience of an NP-F570 L-series battery slot. The cherry on top? The camera's color rendition benefits from the updated Gen 5 color science.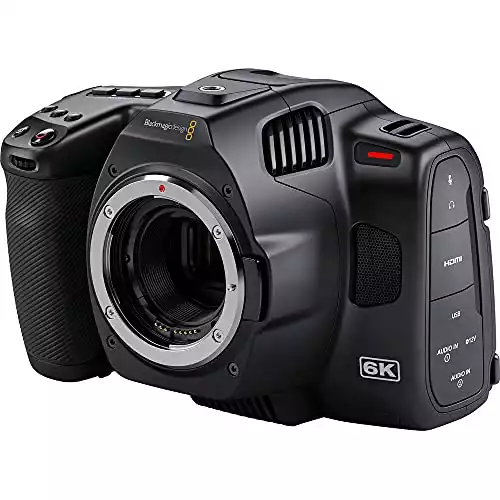 We earn a commission if you make a purchase, at no additional cost to you.
Just because it used to be the most popular choice doesn't mean it's the best choice. The Sony A7SII has been the standard for cheap video production for quite some time now. At its debut, it was a great camera for the price. Now, there are much better options with more natural colors, greater dynamic range, natural skin tones, and workflows specifically designed for video production. Behold, the Blackmagic Design Pocket Cinema Camera 6K.
The title of this camera is quite a mouthful so we'll just call it the BMPCC6KPRO (guess it's easier to say? IDK). This is the best video camera I have ever used around the $2000 mark. Not only do the colors look absolutely gorgeous but it also shoots in a variety of different formats to accommodate all styles of video production. With the ability to shoot insanely high-quality slow motion 6K footage at 60 FPS and anamorphic lens support. If I had to choose 1 camera to only use, this would be it.
One of the best features of this camera is Blackmagic RAW or "BRAW" for short. BRAW allows you to control almost all aspects of the video file in post-production as well as retaining full-color information for maximum quality. BRAW is also significantly faster to edit with as it requires less computer processing to decode resulting in a much higher performance without having to rely on proxies as you would with a Sony A7SII.
Check out this footage that was shot on the BMPCC6K. It honestly looks as if it was shot on a camera costing many thousands more.
I can confidently say that this is the best camera for almost any style of shooting. And with a price tag of $2000, no other camera comes close.
Regarding accessories, you will need the following items:
---
The Lens: Canon EF 24-70mm f/2.8L II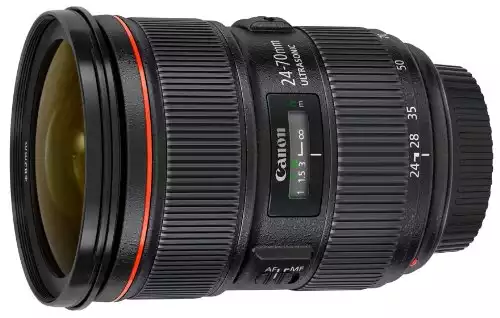 We earn a commission if you make a purchase, at no additional cost to you.
This is the "do it all" lens. Trusted by photographers and videographers alike, the Canon EF 24-70mm f/2.8L II produces a consistent high-quality image at all focal lengths with zero vignetting or lack of sharpness. Additionally, with an f-stop of 2.8, this lens excels in creating that creamy/smooth background everyone wants in their videos.
Why is this lens $1,600? Well, it all has to do with the quality of the glass. Canon is a renowned optics maker that has spent decades crafting some of the best lenses in the world. With this lens, you will be getting incredibly sharp images with fantastic contrast that will make your videos stand out from the pack.
But enough with all that marketing talk. All my DP friends have this lens. If they are shooting a concert? This lens. Action sports? This lens. Interview? This lens. Concert? This lens. BTS video? This lens. I am not even kidding. In the hands of a talented filmmaker, this lens will shine in almost any condition. And if you had to buy a single lens, this is the one.
Regarding accessories, you will need a variable ND filter, this is the only one I recommend: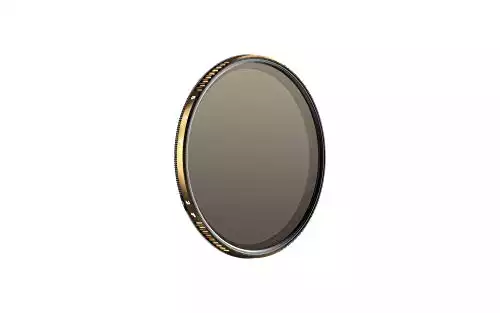 We earn a commission if you make a purchase, at no additional cost to you.
---
The Support: Manfrotto Tripod
Don't buy a cheap tripod. They will fail and your $5000 camera setup will fall to the ground. I have personally seen a $40,000 RED almost crash to its death from a cheap tripod; luckily someone caught it. I have a Manfrotto personally and have nothing but positive things to say about it. It's reliable and pans smoothly. Yes, if you talk to a film person they will recommend a $20,000 Sachtler tripod with an O'Connor fluid head. But we are not shooting the next Hollywood blockbuster or million-dollar commercial. This is just to get you started and this Manfrotto delivers.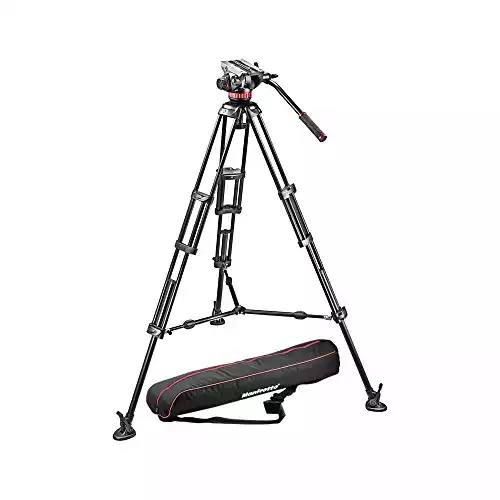 We earn a commission if you make a purchase, at no additional cost to you.
---
Lighting makes all the difference
A light is a light correct? Nope. When it comes to studio setups, having quality lighting is more important than just having "lights". You need to make sure that you have the necessary gear to shape the light also. This includes flags, c-stands, and diffusion. Because the list of gear is quite long, you can find the spreadsheet here: In-House Studio Purchase List.
---
Light Panels: Ikan Lyra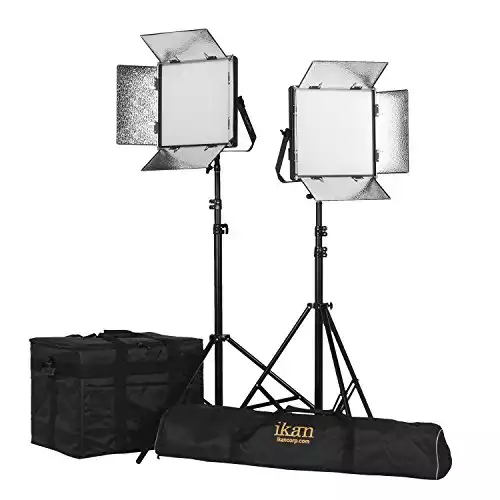 We earn a commission if you make a purchase, at no additional cost to you.
Out of all the budget lighting kits I have used, Ikan shines the brightest out of the bunch with a great balance between affordability and quality. Brands like Neewer are certainly cheaper, and if you are just starting out then sure! Pick up a kit as having some light is better than no light. The reason you are paying a premium for a kit like Ikan as opposed to Neewer is the quality of the LEDs. Low-end LED lights tend to show a green tint due to the fact that in the color spectrum, green tends to be one of the brightest colors. Additionally, the other light in your kit might have a stronger blue cast. This leads to a color imbalance which is almost impossible to correct in post-production leaving you with a subpar image. If you were to compare the light emitting from a Neewer with the light emitting from an ARRI Skypanel (#1 LED panel for productions) you would be blown away by how it makes skin tones look perfect.
---
LED Fresnel: Aputure COB 300D II
This is the most versatile light you'll have in your studio as well as the brightest. You want to have 3 lights minimum (check out this video on light placement). This is the perfect light for your key and your other two LED panels will act as your fill and backlight. I personally love the quality of this light. It's built like a tank and looks fantastic in-camera. I could go on and talk about all its features but this video sums it up the best: Introducing the Aputure 300d II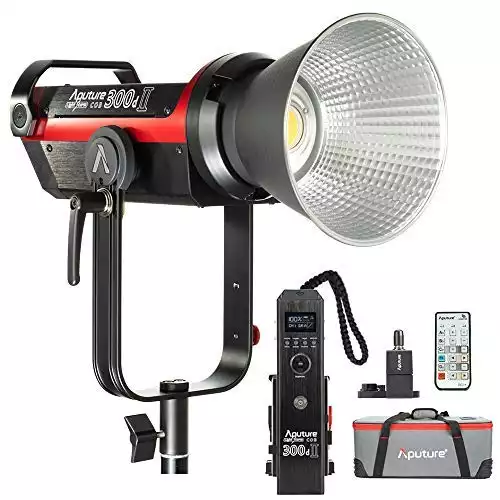 We earn a commission if you make a purchase, at no additional cost to you.
---
Audio is (very) important
Having good audio will make or break your production. Nothing says amateur like hearing the $100 tin-sounding shotgun mic you found on amazon. It's bad. As a rule of thumb, shotgun mics sound better than lavaliers and should always be the preferred audio source. When I run sound I always have both a shotgun and a lav recording for flexibility in post though I usually opt for the shotgun mic as it sounds more natural with cleaner dynamics.
---
The Shotgun Mic: Sennheiser MKE 600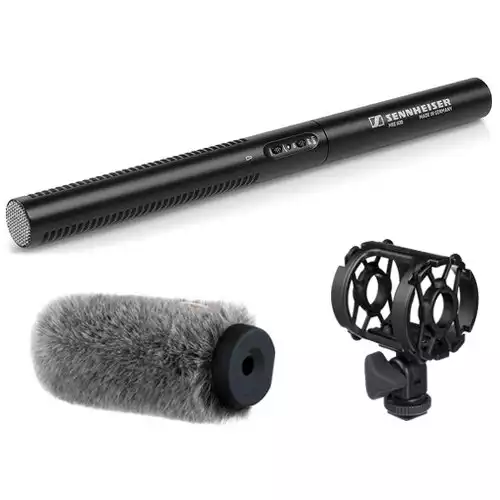 We earn a commission if you make a purchase, at no additional cost to you.
The Sennheiser MKE 600 is a legendary microphone. For the price it is unbeatable plus it even comes with an awesome carbon fiber boom pole which will make those long takes much more bearable (aluminum boom poles are the bane of my existence).
This kit also includes a foam windscreen which is perfect for indoor use.
Make sure to also buy the following accessories:
Buy Now

We earn a commission if you make a purchase, at no additional cost to you.

12/05/2023 10:11 am GMT

Balanced Audio cables utilize impedance balanced lines that reduce EM and RF noise.




Check Price

We earn a commission if you make a purchase, at no additional cost to you.
---
The Lav: Sennheiser EW 122P G45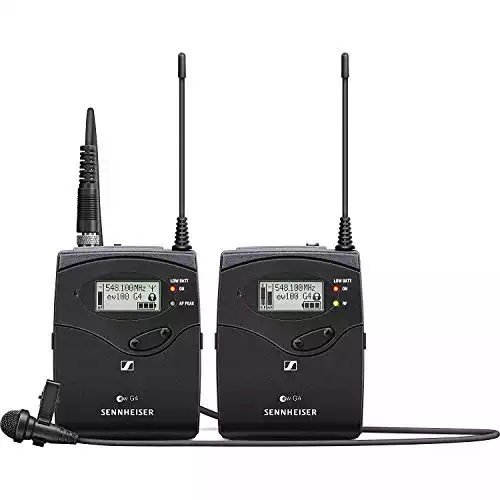 We earn a commission if you make a purchase, at no additional cost to you.
This is the best mid-range Lavalier mic you can purchase. This particular lavalier is the de facto standard for interviews and talking-head productions. With excellent audio quality, robust build, and reliable performance. This is a must-have for any in-house studio.
---
The Mixer: Sound Devices MixPre-6 II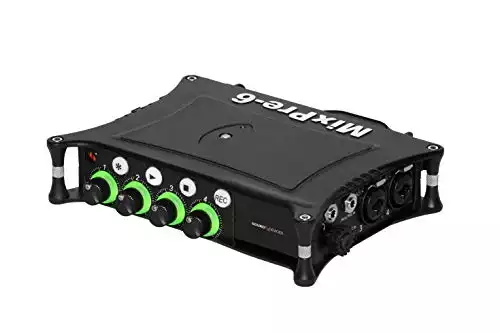 We earn a commission if you make a purchase, at no additional cost to you.
Having good mics is important but so is having a mixer that can properly power the mics and provide clean analog to digital conversion. The Sound Devices MixPre-6 II is my favorite mixer by far. I have used this mixer on more productions I can count on and can vouch for the stellar audio quality it delivers. The best part is that it is incredibly easy to use, mounts to a camera, and connects to your iPad or iPhone for remote control.
The only downside of this mixer is that the AA battery life is quite poor. However, in a studio space that really isn't anything to worry about as it can be easily powered via USB-C. If shooting on-location, picking up a battery sled and a pair of L-mount batteries is a necessity.
Make sure to buy a good pair of headphones like the Sony MDR-7506 for monitoring.
---
In Conclusion
And that is it! Well… not really. There are still plenty more items like backdrops, C-stands, gaff tape, etc. But the good news is that they are all in this handy google sheet. This comprehensive document contains everything you need to purchase to start creating almost any type of content your brand needs. From product shoots to interviews, to fun social media videos, your content will look like a million bucks with no compromises.
Though the number of items needed for a studio may seem overwhelming, any producer would be able to handle this with ease. The best part is is that it only costs around $12,000 for everything. Which, we can both agree is miles cheaper than any agency. Granted, there are reasons to still have an agency but with the correct team at the helm, your in-house team can produce content that is just as good if not better (and faster).